Live it up
Picture this: You're on a remote small beach on the coast of Spain, the sun's out, it's sandy, but you're cool enough in the salt water breeze. 
You and your friends are there for hours and, by the time lunch rolls around, you're a little sunburned and a lot starving. Your meal is delicious—cool wine, savory seafood, and an aged jamón. Top it off with a lazy siesta and you've had the perfect day.
This is Siesta Co. Quality Spanish foods and goods with a history, to be shared and enjoyed mindfully; a taste of the Spain we love, this is what we are bringing to America. Come take a Siesta with us.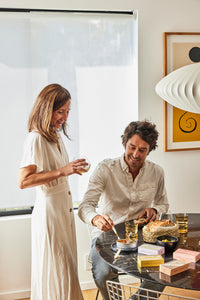 Behind Siesta
We are a Lucia & Carlos, a Spanish-American wife-and-husband team, in love with America. After a decade in the States, there's only one thing we miss as much as our family and friends: authentic Spanish products.

Based in Los Angeles, California, Siesta Co. was born to make the gourmet Spanish flavors that we love, more approachable. Genuine, hearty, high-quality, responsibly caught, and sustainably farmed products from the old world for a modern lifestyle. The roadside stands of fresh produce, the sleepy, out-of-the way family farms, the traditional wisdom to prepare food that has stood the test of time and makes our culture unique.